Outward Bound Canada Hiking Expedition
Earlier this month, eight DHH high schoolers from BC districts and the BCSD had an opportunity to experience a 5-day hiking expedition through the Garibaldi Provincial Park, generously sponsored by Outwardbound Canada (OBC) and the POPDHH. In addition to the OBC instructors, the students were accompanying by two Deaf Mentors, Terry Maloney (POPDHH) and Reighan Helyer, and two ASL Interpreters who doubled as chaperones, Nathalie Freyvogel and Rebekah Zorbakis.
Contribution by Terry Maloney, POPDHH Vice-Principal:
My Outward Bound Canada trip with 8 students, two interpreters, and a deaf chaperone was an amazing experience. Students in grades 10 – 12 were selected from BC School for the Deaf, as well as the mainstreamed students who have been participating in the ASL Credit Level one course.
The group that embarked on the journey initially knew little about each other. Yet, as the week unfolded, I witnessed a remarkable level of interaction among these youth from diverse backgrounds and levels of ASL. The expedition also served as a platform to encourage language development, self-advocacy and self-assuredness among the participants; and they accomplished all this without the use of technology or specialized equipment, relying solely on their authentic selves. It was an amazing transformation that we all were able to experience through the offerings of nature in beautiful British Columbia.
Reighhan Hellyer, a Deaf Mentor and chaperone, writes:
This hiking journey was one of the most challenging, difficult but beautiful experiences for me. I am grateful to have had this rare opportunity. It was amazing to see all of the students come together,  work hard and experience the challenge together and also independently. It was something you have to see with our own eyes. They all supported and encouraged each other to complete the hiking trip and overcome the challenging parts. They all took turns and shared on the duties without any hesitation. I could tell that they all learned so much about each other and about themselves on this trip together.  I have seen each individual grow from the first day to the last day.  There were many remarkable moments and beautiful sceneries to explore and walk through. I was happy to be able to witness this moment in these students' lives that they will remember forever. I would recommend anyone who is offered this opportunity to go. Take that chance if you can. I am sure glad I did.
The students shared their personal experiences as young individuals who are deaf and hard of hearing:
I loved the Outward Bound back country trek. It was a rewarding feeling when we completed the trail through Garibaldi Provincial Park. I saw many different sights that I would not see in my everyday life. I made many new connections with other DHH teens.  I will  cherish those bonds forever. This was a new experience and I loved every second of it. – Shea, North Vancouver
I am grateful for this amazing OBC experience. I succeeded in one of the hard challenges, and I am proud of myself and my team for not giving up on ourselves during the hike. Thank you so much to the OBC for the opportunity that we can experience new things and see these GORGEOUS VIEWS of lakes, trees, mountains, and more. – Jimber, BCSD
Hiking is one of the greatest opportunities to meet other people who have similar experience with hearing loss, where they feel comfortable and relate. Additionally, I bought UNO while I was on the trip and it was a great activity to bring everyone together!
Thank you for this rare opportunity in my lifetime. Since how essential it is, this should be a recurring event! – Jacob, North Vancouver
I loved this experience so much. I found it so much fun to be disconnected from technology and just be able to be in the present with everyone. At first I was a bit nervous to go because it was going to be with people I had never met before, but that first night in camp showed me that I had nothing to be nervous about. Everyone was supportive and came together quite quickly. When we started hiking, you would always have someone to talk to or just walk beside in a comfortable silence. Each meal we would all talk or sign with each other which led the guides wanting to learn a bit more sign, so we soon had little sessions where we would teach them some small signs they could use. The hikes were beautiful and every day was almost a new world, from trees and lakes, to big mountains and valleys to stunning rivers and snowy peaks. I must say my favorite part of this trip was in the morning that was freezing cold so everyone was bundled in layers around the boiling water, waiting for drinks and food. We were all talking and discussing together which was so much fun because that was the day where everyone was truly coming together, same with the last night together all eating a bunch of s'mores and laughing around the fire. I wish the experience could have been a bit longer but I'm so glad that I was invited to go, and that I was able to get some contacts from the other students there so I'm able to talk with them. Anyways, in total the experience was incredible and I loved every part of it, from the people, to the nature, to the long walks, to how good the food tasted after the long hiking days, and the connectivity it provided. – Quinn, Comox Valley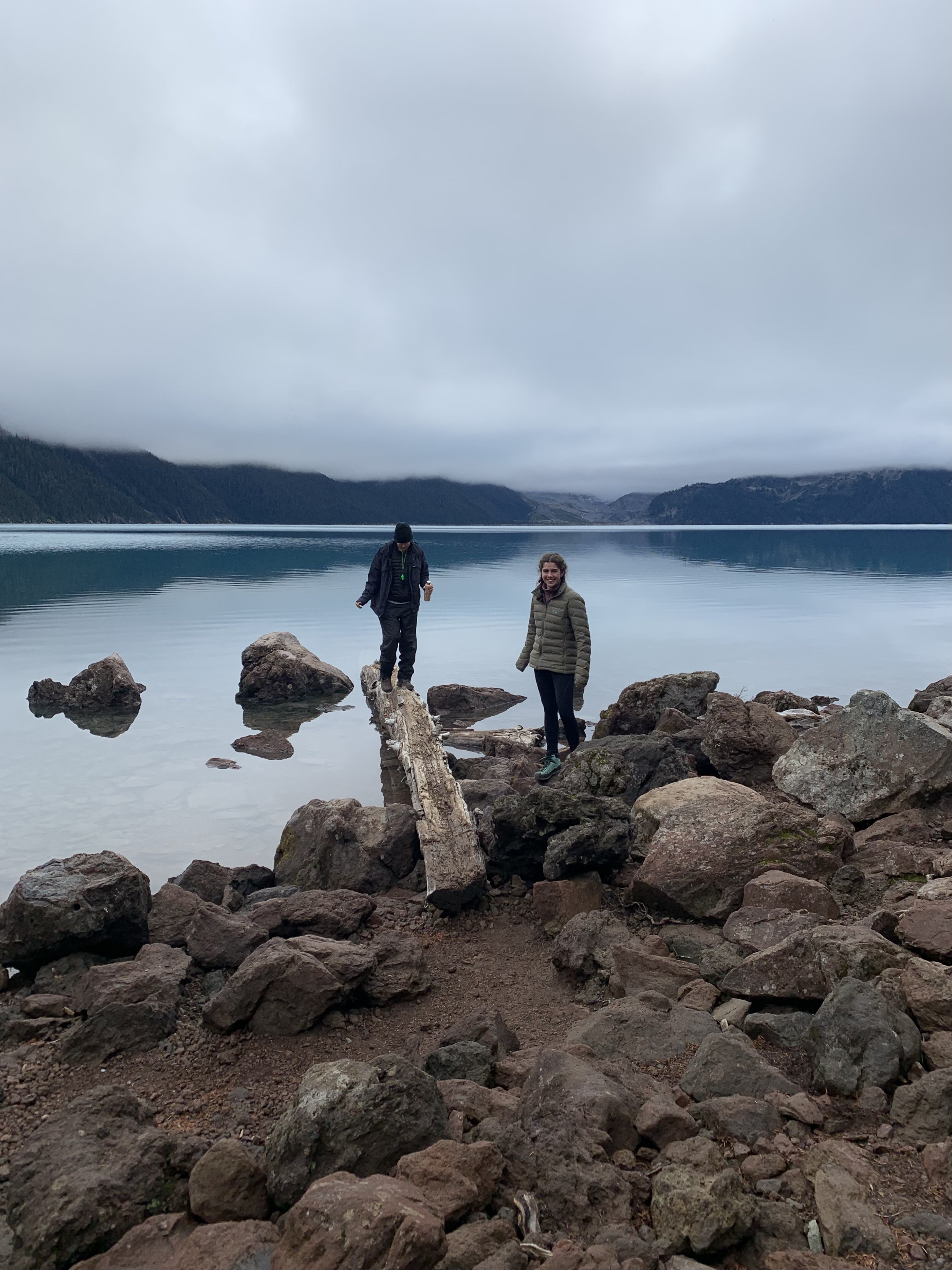 I am a short, lightweight, and small person. The fact that I weigh less than 100 pounds might lead people to think I am too small to carry big things. There were some people who teased me about being lightweight.
After participating in the Outward Bound Canada course, it made me feel confident and I was able to prove people wrong!
My backpack weighed 40-50 pounds and I walked uphill, flat ground, and downhill for 3 days while carrying my backpack. I was carrying my sleeping bag, clothes, water, a tent, and food.
My journey also brought me close to some amazing people and gave me the opportunity/time to reflect on my own life. The one thing that has caught my attention is that I am constantly busy at school working on classes, extracurricular activities, and activities after school. After a while, I realized that I needed to take a break from some of my commitments and focus on myself.
I am grateful to be part of this journey and I am inspired by the experience I had during the course.  – Teanna, BCSD
My Outward Bound experience taught me a lot about what I was capable of. I mean, I knew I was capable of some pretty amazing stuff before I went on this trip, but this trip helped me to better understand my limits and capabilities. This was not my first time camping. I have a bit of previous experience with these kinds of things, I guess you could say, but that didn't make the program any less enjoyable!
It was my first time spending multiple days in a provincial park, and really putting in long hours on the trail, and I enjoyed that aspect of the excursion a lot. I enjoyed the challenge that was represented by carrying all of our gear on our backs, and I remember getting back to school the next week, and being astonished at how my normally heavy-feeling schoolbag felt as light as a feather!
Aside from the experience, I enjoyed meeting the other deaf, and/or hard of hearing students, catching up with some, and meeting our instructors, which I couldn't have asked for a better duo!
There were many different walks of life being represented in our diverse group, and I'm so glad that everyone, including myself, had an unforgettable experience. I was also happy to see others in our group persevere, and challenge themselves both physically, and mentally.
Overall, while this isn't typical school learning, I definitely feel as if I've learned a lot from this experience, and I'd definitely do it again! – Ben, Sunshine Coast
OBC/POPDHH collaboration will be back in 2024!
(More details in upcoming e-news)
From the Community

Upcoming workshops, information sessions, seminars, career opportunities and more
---
Current postings
---
Get in touch
 with us if you have updates you wish to share via POPDHH e-news.

Trick or Treat!