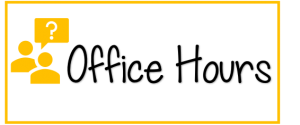 ASL Office hours provide an opportunity for students' school teams to learn ASL vocabulary and content directly related to the topics and resources presented in class.
The purpose of ASL Office Hours  is to build capacity in school teams to deliver and follow through with curriculum content regularly in the classroom. 
There are also many vocabulary-related resources available on our YouTube channel.
How to connect:  Email John to set up an appointment.
What is the advantage of ASL Office Hours?
ASL Office Hours are short on-demand video sessions (up to 15 minutes in length) designed to help develop specific ASL vocabularies, phrases and grammar directly related to topics taught in class.
How to prepare for ASL Office Hours?
Connect with John to set up an appointment.
When you request a session, it may be a good idea to provide a few date and time options.
Email John the teaching materials you want to discuss as soon as possible so he can prepare for your session ahead of time.
Can I record the ASL Office Hours sessions?
You are welcome to record the session for future reference and use with the student. Distributing or publishing of the recording is not permitted.
How often can I use the ASL office hours?