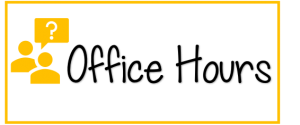 Until further notice the regular office hours slot is not available. Email John directly to request support.
ASL Office hours provide an opportunity for students' school teams to learn ASL vocabulary and content directly related to the topics and resources presented in class.
The purpose of ASL Office Hours  is to build capacity in school teams to deliver and follow through with curriculum content regularly in the classroom.
How to connect:  Email John to set up an appointment. Meet via  whereby.com/johnwarren using your web browser.